Spotfinder Corp. dba ADE Corp.
Welcome to our web site.
The following is a brief history of Analog & Digital Electronics.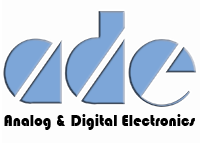 Since 1994, from the creation of Analog & Digital Electronics Corp., we focus in the Electronic Design of non-standard equipment (custom), installation and fixing electronic equipment. Communications, microprocessors, analog and digital designs and applications are some of the job done including industrial electronic equipment and improvement in several ways.

Later in 2003 with the creation of ADE Communications Inc. we continue our job in application, design and installation of Digital Displays, Security Systems (Cameras, Access Control and Alarms). The automation for Industrial applications and fix industrial equipment was our area of expertise.

In 2009 we create Spotfinder Corp. with a dba ADE.
The main idea start with the development of Parking garage Automation. This project is still on process.
We work in Home Automation for Hi End Systems using the latest technologies with Apple Computers and Stand Alone Systems. We project and installing IP security systems for CCTV with large amount of cameras and the newest NVR covering up to 45 spots with remote access through the Internet.